PRODUCT CHARACTERISTICS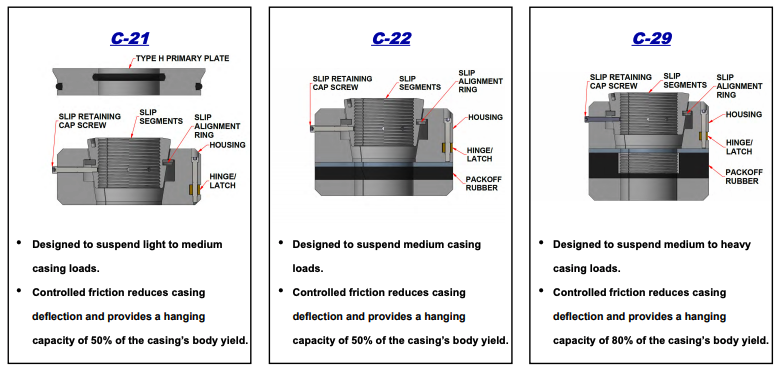 Valveworks USA casing hangers are combined in a single unit that incorporates packoff, slip bowl, and slips.
C-22 and C-29 casing hangers provide automatic packoff sealing by energizing the seal when the string weight is applied.
When the casing load is suspended on C-22 and C-29 casing hangers, the packoff automatically seals the casing annulus below the slips, providing annulus packoff before removal of the blowout preventer (BOP) and cutting the casing.
*A Type H Primary Plate is required to achieve annulus seal on C-21 casing hangers.
Valveworks USA casing hanger's controlled friction reduces casing deflection and provides excellent hanging capacity. *See above for specific capacities.
The casing load is distributed equally to the bowl of the casing head due to even engagement of the slips.
Note: To maintain an equally distributed casing load, the slip segments may require adjustment prior to the string weight being applied.
Valveworks USA casing hangers have been enhanced over time to become an industry standard, allowing for good product availability.
Valveworks USA casing hangers are engineered, designed, and tested to meet and exceed industry standards.
Manufactured using high-quality materials and processes in accordance to strict Quality Management System requirements.
Available in Product Specification Level (PSL) 1, 2, and 3 with
PR-2 design validation.
Available in Material Class AA and Material Class DD-NL
Full material certification data book is available upon request.
Valveworks USA casing hangers are economical and are easily installed.
Available Monogrammed to API 6A latest edition.